---
Test Your Hebrew
---
Test Your Hebrew was a cassette compilation of four programs written by Rabbi Rigal in BASIC for the Sinclair ZX Spectrum some time in the mid-1980s. The programs were all simple educational games aimed at children attending religion classes. It was self-published under the label "Menorah Software". It was not greatly sucessful as not all people had home computers and, although the Spectrum was one of the most common types, there were a great many different types of home computer and these were all incompatible with eachother's software.
Note: Although it is easy to obtain an emulator for the Sinclair ZX Spectrum it is not easy to load programs from cassette, a process that was dodgy enough even with the original equipment, so we can not provide any downloads or screen shots for the time being.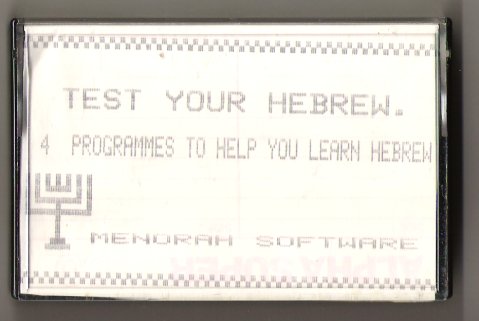 Test Your Hebrew - Cassette Cover
---
©2010 The Estate of Lawrence Rigal. All rights reserved.